Street Volkswagen Wins Big at American Advertising Awards
Street Volkswagen of Amarillo took home three awards at the American Advertising Awards hosted by the American Advertising Federation of Amarillo (AAF-Amarillo) on Thursday, February 20, 2020. Managing Partner and Vice President of the Street Volkswagen, John Luciano received the President's Outstanding Member Award and the O. Joe Russell Outstanding Club Support Award from AAF-Amarillo. David Meraz, Marketing Director at Street Volkswagen received a Silver Addy Award.
Each year, AAF-Amarillo hosts the first tier of the American Advertising Awards which is open to all creatives in the Amarillo and Canyon area. Winners of the competition receive either a Gold Addy or a Silver Addy for creative excellence. Gold Addys are forwarded to a District Competition, and winners from District are advanced to a National Competition. This year, the National American Advertising Awards will be held in Palm Springs, California in June.
David Meraz won a Silver Addy in the Advertising-Industry Self-Promotion category for his work with AAF-Amarillo this past Thursday night.
"I am thrilled to have finally won an Addy," Meraz said. "I've entered into this competition for fours year now and it's so competitive so I'm just happy to be recognized with so many talented individuals."
During the ceremony in Amarillo, the president of the club and a special committee chosen by the president present special awards to current and past club members. This year, the Outstanding Member Award was given to John Luciano. He also received the prestigious O. Joe Russell Outstanding Club Support Award. Both awards were given to Luciano for his continued support and dedication to AAF-Amarillo, its Board Members and Club Members.
"This is a true honor," Luciano said. "I am grateful to be part of such a fun and caring organization that does so much for the advertising industry and I enjoy the quality programs they present each month. Both awards mean a lot to me and Street Volkswagen."
Both John Luciano and David Meraz have been members of AAF-Amarillo since they presented to the club on their marketing techniques in 2016. Street Volkswagen along with Volkswagen were the title sponsors of the AAF Central Region Conference in 2017 and both Street Volkswagen and AAF collaborate on my philanthropic events together.
In 2019, Street Volkswagen of Amarillo was honored with the Community Service Award for their generous service to Amarillo and outstanding advertising in the community.
Street Volkswagen of Amarillo opened in Amarillo, Texas in 2013 and has since been a valuable corporate citizen in the Texas Panhandle. They provide support to area nonprofit organizations such as Family Support Services, Young Life, United Way, the High Plains Food Bank, the Chamber of Commerce, the Hispanic Chamber of Commerce, West Texas A&M University and many other organizations. For more information on Street Volkswagen of Amarillo please visit their website at www.streetvw.com or call them at 806.350.8999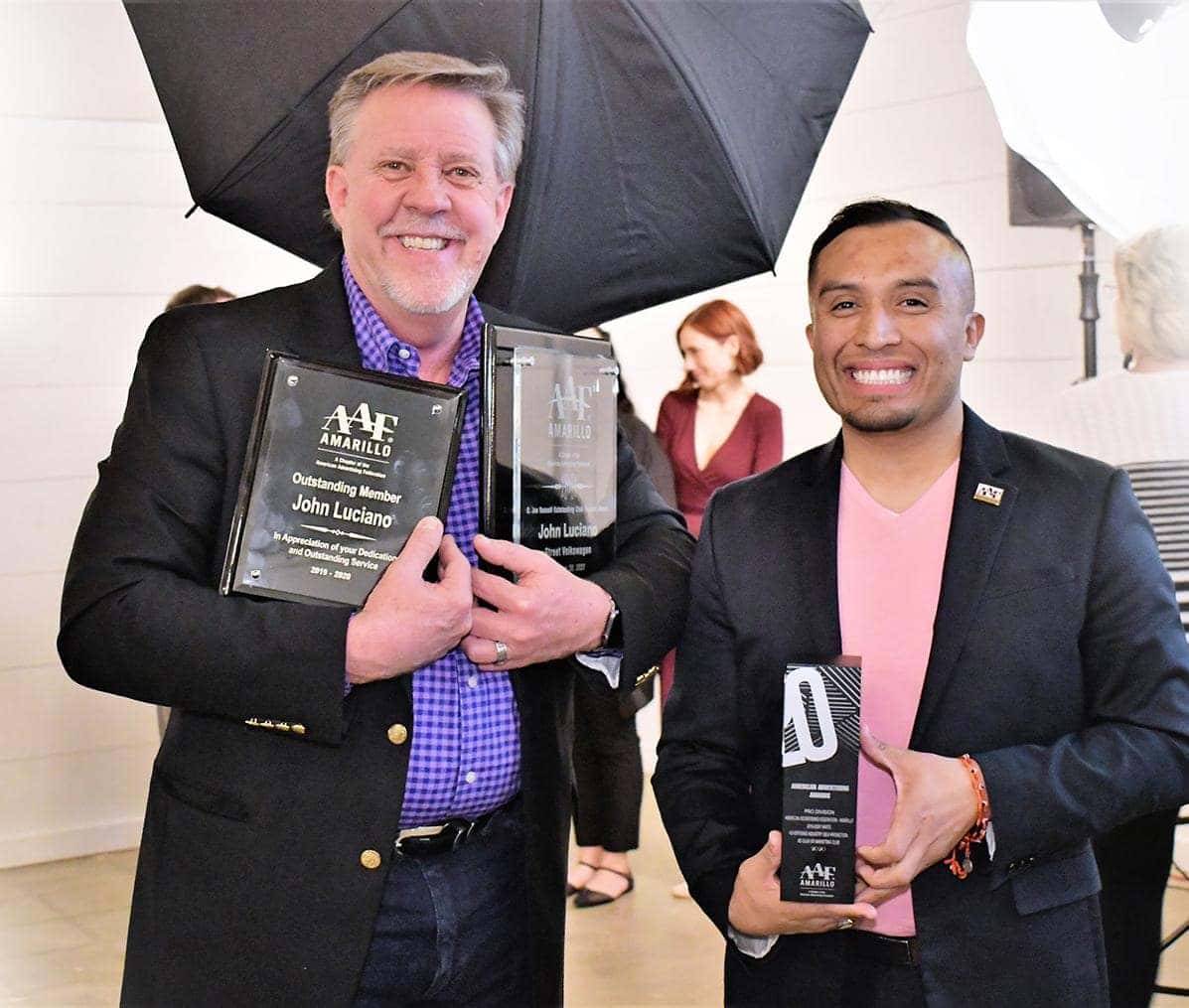 Street Volkswagen Employees Pictured Left-Right: John Luciano, David Meraz